How & When to Start Counting Baby Kicks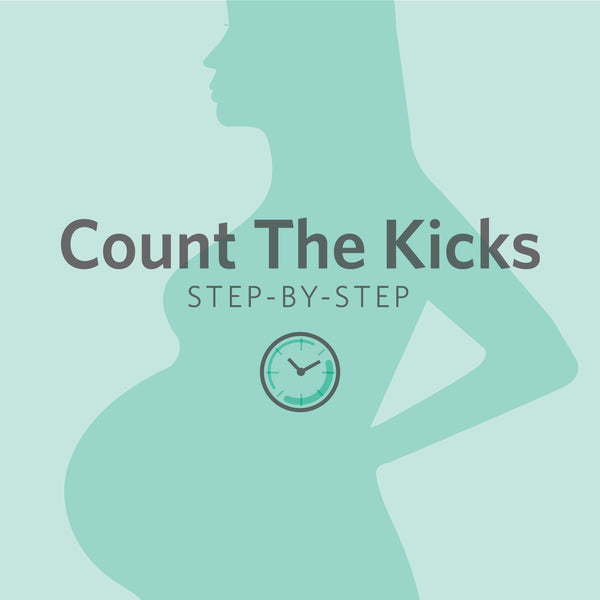 Counting baby kicks in the third trimester is a great, non-invasive way for you to bond with your bub, monitor their health, and get to know his or her personality before they're even born! Non-profit organization Healthy Birth Day, Inc. created the Count the Kicks campaign nearly a decade ago after research showed that tracking bub's movements can lead a mum to save her bub if she notices a change in movement and tells her provider when she notices a difference. The campaign saved three babies within ten weeks last year, all because mums were tracking movement and spoke up when they noticed a reduction in their bubs' movements.
Time to Start Counting Baby Kicks!
Count the Kicks and the American Congress of Obstetricians and Gynecologists recommend you start counting at 28 weeks of pregnancy, or 26 weeks in a high-risk pregnancy. Here's how you do it:
Download the FREE Count the Kicks app, available in iTunes and Google Play online stores.
Count the Kicks every day, preferably at the same time.
Pick your time based on when your bub is usually active.
Sit with your feet up or lie on your side. Count each of your bub's movements as one kick and tap the foot on the app until you reach ten movements. After a few days, you will begin to see a pattern for your bub (how long it takes you to get to ten).
Most of the time it will take less than a half hour, but every bub is different.
Knowing what is a normal movement pattern for your bub is key. When "normal" changes, this could be a sign of potential problems and an indication to call your provider.
Innovative App
The free Count the Kicks app will help you record the amount of time it takes your baby to get 10 movements and will save your kick counting sessions. The Count the Kicks app is available in English and Spanish, counts for single babies and twins, sends a daily text or calendar reminder, and can be used in consultation with your doctor. You can also log your times into a manual Count the Kicks chart.
Baby Movement Myth
Baby movements do not slow down at the end of pregnancy. While babies may run out of room for somersaults, they still move all the way up to and even during labor. Your baby's movement pattern (how long it takes your baby to get to 10 movements) should remain the same throughout your pregnancy.
Be Empowered to Count the Kicks
Since Count the Kicks launched in Iowa in 2008, the state's stillbirth rate has decreased 26 percent while the rest of the country's stillbirth rate has remained relatively stagnant. Join the powerful movement by downloading the free app during pregnancy and tell every pregnant mum you know about the importance of tracking fetal movement in the third trimester. You never know who you might save!