Top tips for flying with a baby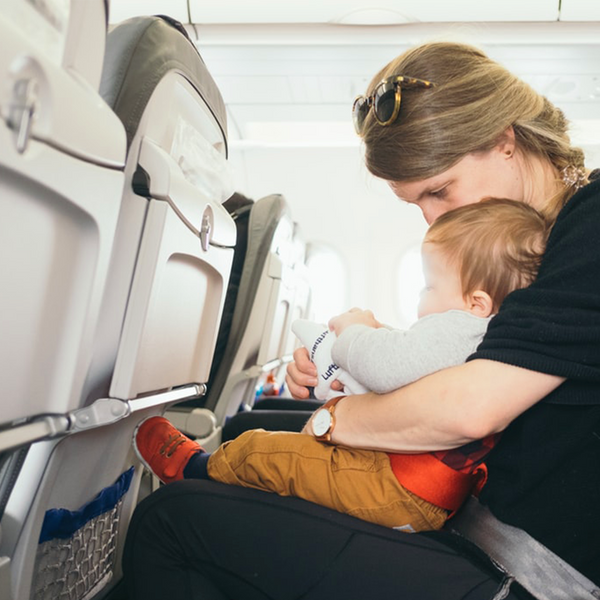 Travelling with a baby is easier than you think, we promise!
Babies can fly for free until they are two years old, so those early years can be the ideal time to jet off on a family holiday. To help you plan for upcoming trips, we've put together some useful tips and tricks for flying with a baby.   
 PLAN AHEAD: BOOK YOUR SEATS AND BABY CARRIER WELL IN ADVANCE 
When booking your flights, check out the seating plan on the plane as these vary with different aircrafts. Check with the airline which areas will be the most accommodating for you and your baby. 
If you're travelling long haul, opt for the front row bulkhead seats - they can often fit a carrier for your baby to sleep in. Reserve your baby carrier at time of booking as there will be a limited number onboard. Book direct flights where possible too. While this may be more expensive, a direct flight minimises wait times and any stress associated with a layover or connecting flight.
 For short haul flights, reserve back row seats if possible. Most passengers sit near the front so they can disembark the aircraft as quickly as possible. This means that often, there are actually fewer people at the back of a plane and therefore more free seats and space for you and your family to spread out. You'll also be near the toilet and changing facilities, and have space to walk around and soothe if needed. 
PACK SMART: BE PREPARED BUT KEEP YOUR LUGGAGE LIGHT
 When packing your carry-on bag, pack smart! Avoid bulky changing bags as space is always tight. Group different essentials into separate packing bags within your carry-on so everything is easily accessible. Have enough snacks, spare clothing, nappies and wipes to last you at least 48 hours. It's best to be ready for all eventualities. Finally, remember to pack favourite toys and comfort items.  
ARRIVE EARLY: GET TO THE AIRPORT WITH PLENTY OF TIME TO SPARE 
 Get to the airport nice early to avoid rushing or any last minute panic. Remember that you'll need to carry your baby in your arms through airport security, so it can be smart to collapse your pram beforehand. Buy any additional liquid items in the departure lounge to reduce time spent at security.
 Research what there is to do at the airport and if there are any soft play areas for young babies and children. Family facilities at airports are always improving so it's worth checking before you arrive.
Airlines often let passengers travelling with children board the plane first - take advantage of this and take your time getting settled onboard. 
HAVE THE DUMMY AT THE READY WHEN TAKING OFF AND LANDING
Take off and landing can be the least enjoyable times on a flight for a baby. The sucking action of breastfeeding, a bottle, dummy or sucking toy can help neutralise ear pressure and restore calm. If you need food or milk heated, cabin crew will be happy to help. And remember to keep yourself and your baby well hydrated - the low humidity can be quite dehydrating. 
USE THE POWER OF DISTRACTION: KEEP YOUR BABY ENTERTAINED ON THE FLIGHT
Distraction is key! If your baby is agitated or upset, take them for a walk up and down the aisle. Keep them entertained with a steady flow of different toys. For toddlers, consider packing a little gift or two for the flight. Unwrapping each one will keep them busy and new toys = new distractions. And lastly, pack lots of snacks to keep your baby (and you) smiling.
We would love to hear any other travel tips you have! 
Let us know at contact@owletcare.com